AIR CONDITIONING
Hawkes Refrigeration Engineers Limited provide a full range of Air Conditioning services from new installations to repair and maintenance of existing systems.
Air Conditioning Experts Since 1966!
Things have changed quite a bit since 1966. England haven't won a world cup since that magical year, man has been to the moon and the internet wasn't even on the radar!
Hawkes Refrigeration Engineers Limited has grown into one of the largest refrigeration and air conditioning companies in the South East of England and our continued growth is testament to our customer focused approach to providing the very best in products and services.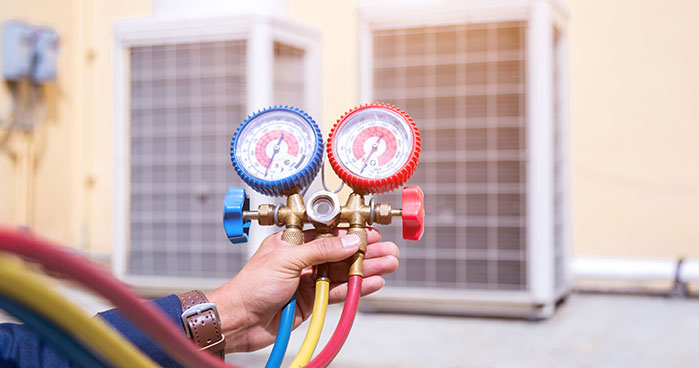 The First Hybrid System...
The Mitsubishi Hybrid VRF is a world first simultaneous heating and cooling 2-pipe system that uses refrigerant between the outdoor unit and the HBC (Hybrid BC controller), and water between the HBC and the indoor units. HBC is the most unique part in this system and allows heat exchange between refrigerant and water. This system is suitable for a wide variety of installations.
Simply get in touch and we will explain the benefits and innovative solutions we can bring to your air conditioning requirements.
Air Conditioning
Over 50 years of expertise in Air Conditioning. From new installations to maintenance, Hawkes Refrigeration Engineers can help deliver systems for almost any application.
We design and install and can offer 7 year warranties on Panasonic, Fujitsu and Toshiba products, 5 year warranties are also offered with Mitsubishi Electric, MHI and all other major manufacturers.
VRF Systems
VRFs are typically installed with an Air conditioner which adds a DC inverter to the compressor in order to support variable motor speed and thus variable refrigerant flow rather than simply perform on/off operation. By operating at varying speeds, VRF units work only at the needed rate allowing for substantial energy savings at load conditions. Heat recovery VRF technology allows individual indoor units to heat or cool as required, while the compressor load benefits from the internal heat recovery. Energy savings of up to 60% are predicted over comparable unitary equipment. This also results in greater control of the building's interior temperature by it's occupants
Fan Coil Units
A fan coil unit (FCU) is a simple device consisting of a heating and/or cooling heat exchanger or 'coil' and fan. It is part of an HVAC system found in residential, commercial, and industrial buildings. A fan coil unit is a diverse device sometimes using duct-work, and is used to control the temperature in the space where it is installed, or serve multiple spaces. It is controlled either by a manual on/off switch or by a thermostat, which controls the throughput of water or DX to the heat exchanger using a control valve/lev and/or the fan speed.