VENTILATION
Hawkes Refrigeration Engineers Limited provide a full range of Ventilation services from new installations to repair and maintenance of existing systems.
Hawkes Refrigeration Engineers have been providing Design and Technical Support to the Building Services Industry and Mechanical Consultants for over 50 years.
We offer a full design and selection service for our comprehensive range of Air Movement, LEV, Heat recovery, Fire and Smoke, Acoustics, Heating and cooling products.
Local Exhaust Ventilation
A legal requirement
The HSE's Control of Substances Hazardous to Health (COSHH) Regulations requires that, where certain chemicals and other substances are used in industrial and commercial processes, they should either be contained or safely dispersed (Local Exhaust Ventilation).
Why not let Hawkes take care of your LEV requirements? Call us today for that professional friendly service we all expect from a reputable company.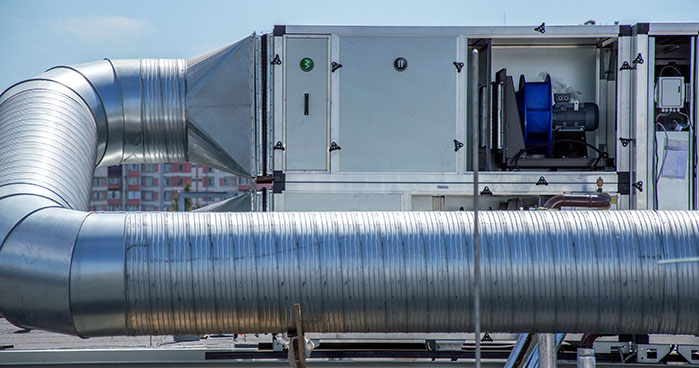 LEV Testing
Regulation 9 of COSHH requires that any control measure taken to comply with regulation 7 must be maintained in an efficient state, in efficient working order and in good repair. LEV systems should be examined and tested at least once every 14 months."
As specialists in dust extraction and fume extraction systems we offer a COSHH LEV Testing and Maintenance Service in compliance with current legislation to ensure the extraction systems continue to provide safe working environments for the employees..
Air Handling
An air handler, or air handling unit, is a device used to regulate and circulate air as part of a heating, ventilating, and air-conditioning system. An air handler is usually a large metal box containing a blower, heating or cooling elements, filter racks or chambers, sound attenuators, and dampers…
Simply contact us for more information
Cooker Hood Extraction
An exhaust hood, extractor hood, or cooking canopy is a device containing a mechanical fan that hangs above the stove or cooking area in the kitchen or prep area. It removes airborne grease, combustion products, fumes, smoke, odours, heat, and steam from the air by evacuation of the air and filtration including carbon and HEPA filters
Clean Rooms
A clean-room is a facility ordinarily utilised as a part of specialised industrial production or scientific research, including the manufacture of pharmaceutical items and microprocessors.We currently maintain and upgrade exiting systems to our clients specifications. Hawkes offer a full Cleanroom validation process to ensure that your controlled environment is performing to specification.